H-SDI-2US-E Encoding of HD-SDI to DVB ASI

The H-SDI-2US-E is a High definition encoder that converts an HD-SDI input into a high definition DVB-ASI and IP Transport Stream output. For added flexibility, this platform also offers HDMI, Component, and VGA inputs. The system is based on the higher bit rate MPEG2 protocol, and is therefore compatible with American cable TV systems. Encoding is based on the a 4:2:2 MPEG2 CODEC for high quality compression. A single HD SDI video signal and up to 8 channels of embedded audio are seamlessly combined into a single transport stream output availible as both ASI and IP. Signal output is provided by a single BNC connector for DVB ASI output and RJ-45 10/100. BNC is also used for the HD-SDI input. The ASI output stream is adjustable for bitrates of 5 Mbps to 25 Mbps. This unit offers encoding based on the Dolby AC3 audio codec, and is therefore fully compliant with the strict MPEG2/AC3 requirements of the US Broadcasting industry. This platform also offers an optional QAM modulator circuit, making it even more versatile for the Broadcaster. With the optional QAM modulator circuit, this unit is able to function as both a High Definition Broadcast Encoder as well as a broadcast QAM modulator. For full ATSC compliance the unit will pass 708 Closed captions from the HD-SDI input, and offers a 608 input via a standard RCA connector.
• High Quality Encoding based on a 4:2:2 CODEC
• Based on MPEG2 enoding and therefore can be used with US cable systems
• Featuring Dolby AC3 audio encoding for full broadcasting compliance
• Supports both 608 and 708 Closed Captions
• An HD-SDI video signal with up to 8 embeded audio channels are encoded into an ASI Transport Stream
• Multiple Video Formats: HD-SDI, HDMI, Component, and VGA
• Optional QAM Modulator offers output on digital QAM RF
• Highly reliable broadcast quality encoding.
Applications :
SD-SDI (SMPTE259M) - 270Mbps with Audio to DVB-ASI TS
HD-SDI (SMPTE292M) -1.5Gbps with Audio to ASI TS
HD-SDI to QAM RF Output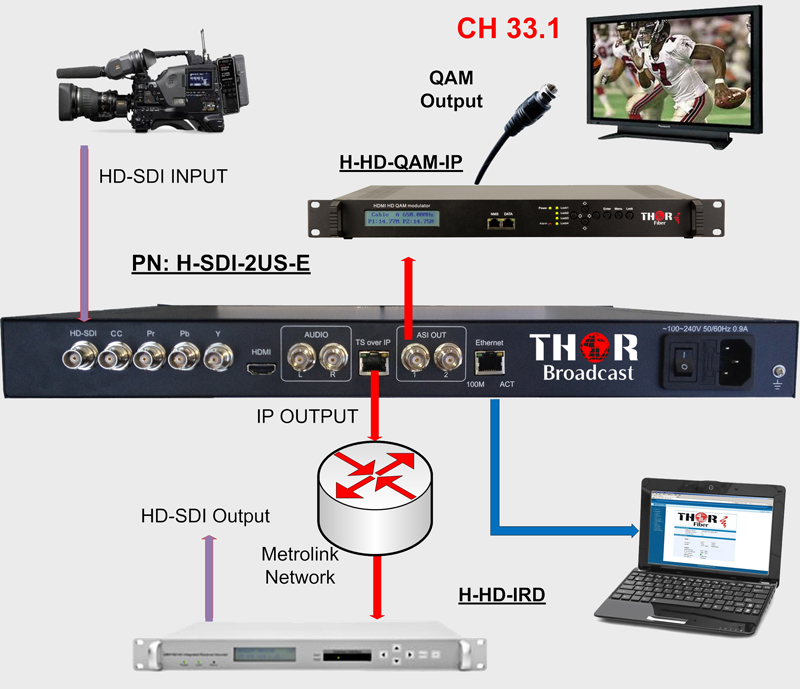 Product Specifications
Input

1 HD-SDI (SMPTE 292M)
BNC 75 Ohm
Data Rate - 1485 Mbps

1 HDMI (Non HDCP Protected)

1 Component (RCA)

1 VGA (DB15)

Resolutions
1080i60/59.94/50,
1080p30/29.97/25/24/23.98,
720p60/59.94/50
Output

1 DVB-ASI
BNC -75 Ohm
Data rate - Up to 19.2 Mb/s
IP TS Output: UDP



MPEG2 Profiles

Supported



422P@HL: 100, 160 Mbps VBR (1920x1080i/p, 1280x720p, 4:2:2, I-Frame Only)
422P@HL: 50, 100 Mbps VBR (1920x1080i/p, 1280x720p, 4:2:2, Long-GOP)
MP@HL: 18, 35 Mbps VBR (1440x1080i/p, 4:2:0, Long-GOP)
MP@H-14: 25 Mbps CBR (1440x1080i, 4:2:0, Long-GOP)
MP@HL: 19.7 Mbps CBR (1280x720p, 4:2:0, Long-GOP)

Audio Formats




MPEG1 Layer 2 (384 Kbps: 2-Channel, 192 Kbps: 4-Channel

Uncompressed PCM Audio (2/4-Channel, 48-KHz, 16/24-Bit)

Now Featuring Support for Dolby AC-3 Audio

Applications



High Quality HD Video/Audio Acquisition and Delivery
Real-Time HD-SDI <--> / ASI,
1080i, 720p, 1080p24
Tapeless Workflow