Fiber Optic 6 LNB to SWM Switch Extender System for 6 Polarity Satellite TV
The F-LB61 system from Thor Fiber is designed for use with satellite TV systems that have six LNB coax cables coming from the antennas. These are typically systems that support an additional antenna used for international content or free to air programming. The LB61 solution will work with most standard satellite TV antennas such as Directv® and Dish Network® systems. LB61 creates a fiber optic link between the satellite antenna and the single wire multiswitch portion of the TV system. This can be used to overcome distance limitations between the antenna and the rest of the system, or to distribute the output from a single antenna to multiple TV distribution locations. The standard LB61 system can be used to deliver the output from a satellite antenna to up to 32 individual optical receivers. The output from each of these optical receivers is identical to the output from the original satellite antenna. There is no way that the equipment from the television provider can detect that it is not directly connected to its own satellite antenna.

Product features
• Up to 6 RF feeds from satellite 4 LNB's over 1 stramd Single mode fiber

• Wide frequency response 850-2400 MHz or 54 -2400Mhz (optional)
• Compatible with multiple providers such as DirecTV, Dish Network, Free-to-air

• Designed for use with Single Wire Multiswitch systems
• Up to 32 end points - Receivers from a single transmitter, using 1 x32 optical splitter

• Plug and Play

• Does not optically saturate
• RF Signal Input to the Transmitter = RF Signal Output from the receiver (100% transparent)

• Transmitter RF Input can power LNB- 13V or 18V
• Sends 22Khz control tone
• Additional ATSC RF from local antena transport possible bacuse it support 54-2700Mhz spectrum

• Sends 22Khz control tone
• LCD display and Front panel managment

• Transmitter displays RF Input Power for individual RF feeds and Optical Ouput power for each individual 4 CWDM lasers
• Receiver displays Optical input power from each of the 4 lasers, including RF ouput Power
•Internal Power AC power supply 110V-220V
•Redundant power supply

Application Drawing: Point to Point





 
The most common application for the LB61 system is extending the maximum distance between a television system and its satellite dish antenna. Without the use of a Thor system, the satellite antenna must be installed within 100 meters of a multiswitch or receiver equipment. This is not a problem for most residential or household type consumer applications; but presents a significant obstacle in larger high rise buildings or corporate installations. The LB61 system increases the flexibility of satellite TV systems by overcoming the distance limitation between the antenna and the rest of the TV system.
Application Drawing: Point to Multi-Point

 



Another  common application of these systems is for distributing the output from  a common antenna to several locations.  The standard CWDM version of  the LB61 platform can deliver full satellite TV service to up to 32  indiviual buildings or locations.  These systems are not compatible with  EDFA optical amplifiers and are therefore limited in their output.   They are not powerful enough for adding data or internet services, and  when used with splitters the maximum fiber distance will be limited.   For systems requiring LTTH (L-Band to the Home) type services, Thor  recommends upgrading to a DWDM type transmitter system.  



Thor Fiber's all new 6 Channel L-Band Tx & Rx kit is a new alternative to standard single and four LNB Satellite Dish feeds. Dish brands like DirecTV and Dish Network generate RF feeds onto four polarities, now satellite providers are adding an additional 5th polarity on very type specific dishes. The F-LB61 is Thor's response to the growing popularity of now being able to stow away a dish in a remote location + having the added benefits of expanding RF frequency range. The LB61 can transmit 6 independent LNB signals from 50-2400MHz for integrators to drive analog, digital, and satellite feeds. Using an internal optical multiplexer we are able to deliver each polarity of the dish feed onto separate colors of light in the fiber spectrum creating unparalleled reliability and flexibility.
This open ended transmitter and receiver is able to carry any frequency in the CATV and Satellite range. This creates an opportunity for installing ATSC (8VSB) antennas, dish arrays, and CATV driven coax feeds from a distant area all the way to your head end. Incorporating this MUX of L-Band signals can help solve a multitude of location problems that hinder the availability and installation of satellite dishes onto properties that have very distinct needs.
Up to 6 channels of L-Band will be driven by powerful lasers in the 1260-1620nm CWDM wavelength. Thor can also custom design and build a unit on any specific wavelength if this is a necessity for any custom application. 6 channels will be multiplexed onto standard singlemode fiber using SC/APC connectors. Alongside a small powerful processor and dual redundant power supplies makes Thor's F-LB61 a powerful, and exceptionally reliable tool for transmitting any feed from 50-2400MHz. Furthermore the LB61 uses automatic gain control for easy point to point and point to multipoint installations. Easily adaptable with any SWIM you can readily produce an internal infrastructure design for implementing expanding endpoints. Thor can manufacture the LB61 unit with 10mW lasers to ensure you can use a 1x32 optical splitter. Special order with DWDM that can be used with EDFA's to drive over 5000 endpoints with a single dish. Please contact a Thor representative for more information and assistance with choosing the right equipment for your next project.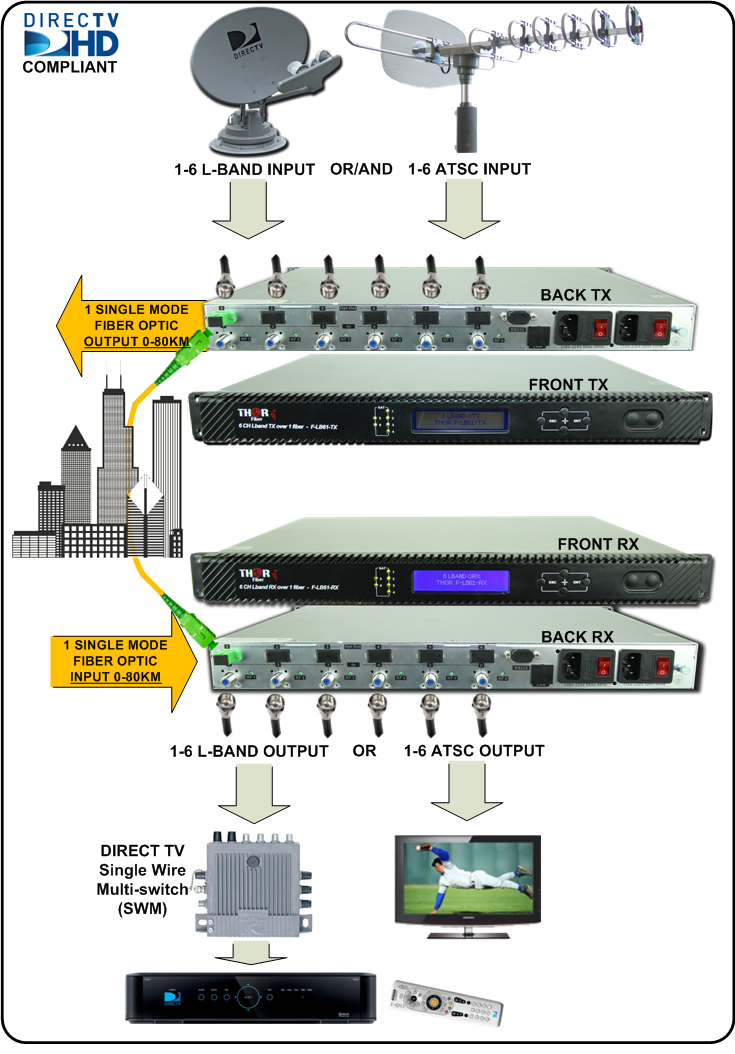 Thor L-Band to the Home Documentation
Basic LTTH System Architecture PDF
Advanced LTTH Headend Design PDF
Redundant Tx LTTH Rack Design PDF
Product Specifications
RF Inputs

6x Type-F 75 Ohm

Frequency Range
850-2400 MHz / 54-2400Mhz
RF Input Power Level
14-25 dBmV (-35 - -23dBm)
Optical Wavelength
6x CWDM 20nm Spacing 1310-1610nm
Optical Output Power

3.5 dBm (2mW) - standard

6.0 dBm (4mW) Optional
8.0 dBm (6mW) Optional
10. dBm (10mW) Optional

Optical Output Ports
1 SC/APC
Laser Type
6x Feedback Controlled DFB type CWDM
RF Return Loss
12 dB
RF Link Gain
25 dB
Control Interface
RS-232 Serial (Optional)
SNMP Network (optional)
Front Panel
Power Supply
110 / 220 VAC Auto Switching
Power Consumption
>50 W
Dimensions
482 x 268 x 44 mm
Weight
3.5 kg
Operating Temperature
0 - 65 C