DVI or VGA over IP
Transport of DVI or VGA High Definition Video Signals Through IP Based Networks.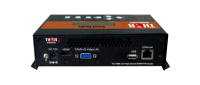 HDMI over Public Internet RTSP/HTTP Encoder
The Thor Broadcast H-H264IP-E RTSP network encoder is a real time encoding device for IP broadcasting over LAN or Public Internet. The signal source could be from an STB, PC, TV etc via HDMI and it will transport the live program through the internet/LAN output This LAN broadcast can be received by any phone, table, or PC. This Thor network encoder lets you access your IP STB, PC or TV anywhere to watch your stream of content. The device supports HDMI/YPbPr/S-Video/AV/USB input and encodes in MPEG 4 AVC/H.264 format. This H.264 IP signal will output over UDP, RTP/RTSP, HTTP, and HLS.