L-Band to the Home LTTH Satellite TV Fiber

Multiplex LNB RF Coax Single Fiber DWDM & EDFA + GPON Internet Service: 1 Fiber
Modern Satellite TV systems are based on multi polarity Ku Band signal feeds. The use of multiple satellites and and LNBs allow the worlds largest satellite TV carriers to offer 4 to 10 times as much content as terrestrial cable systems. All this extra bandwidth comes from the many coax cables that are connected to the satellite antenna. However it is very difficult and much more expensive to run 6 coax cables to every receiver in the building. To solve this problem, a polarity locker or single wire multiswitch is typically used. All of the coax cables from the antenna connect to a control switch. This switch receives control signals from the set top boxes or IRDs. The control signal tells the switch what channels to send back to the receiver. This is why only one coax cable is needed for each tuner to deliver the many signals from the antenna. This complicated problem has prevented satellite TV service from wide scale implementation in the FTTH market. LTTH is a proprietary technology developed by Thor Fiber for wide scale delivery of satellite TV service to thousands of subscribers from a single antenna. Delivery of this service is provided via a single fiber optic cable, that can be split in the field. In addition high speed internet and voice service can also be bundled onto the same fiber. Thor specializes in application specific design, contact an engineer for more information.
LTTH RF Signal Path: Coax -> Fiber -> Coax


EDFA optical amplifiers are the technology that has made fiber optic service possible. These devices amplify an incoming optical signal as the light passes through a special segment of fiber that is doped with the element Erbium and energized with a pump laser. In this way the signal does not have to be stopped or delayed, but rather continues through the fiber at the speed of light. The only catch is EDFAs will only amplify light at a very specific wavelength range of around 1550nm. The vast majority of fiber optic communications equipment do not have the proper optics or lasers that can be used with optical amplifiers or EDFAs.
Thor LTTH is based on optical channel spacing of 1.6nm from 1540-1560nm. This allows multiple RF carriers to be multiplexed onto the same fiber for amplification and distribution. Once amplified the to high power levels the optical signal can be split to hundreds of outputs. When one of these outputs is connected to a Thor receiver, the optical channels are separated internally via a passive optical channel demultiplexing filter. This filter has multiple outputs that each contain a different 1.6nm optical channel. Each channel gets connected to a separate optical RF receiver. The output is provided on the same 75 ohm Type-F connector any satellite TV installer will be familiar with. Each of the coax connectors on the optical receivers output the different LNB polarities. Typically the optical receiver is then connected to a polarity locker or single wire multiswitch.
LTTH Complete System Architecture Overview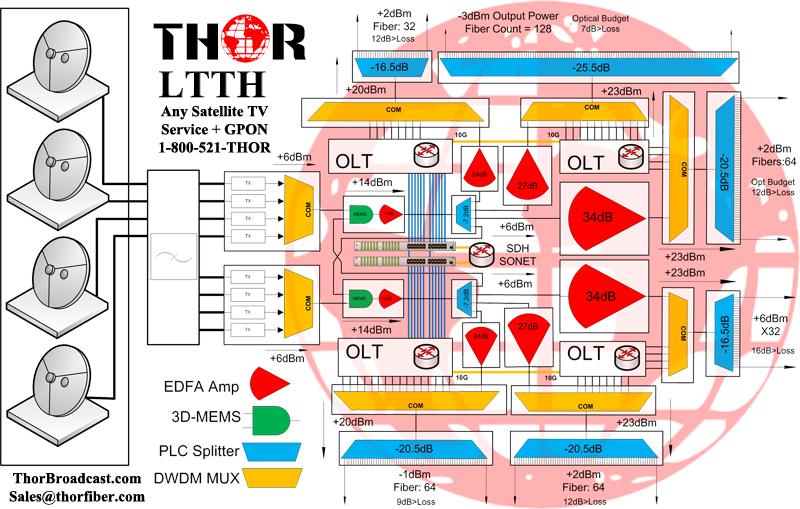 Thor LTTH Advantages

• Complete Turn-key service for satellite TV delivery over fiber
• Equipment designed and built specifically for each installation
• Thor provides all equipment and supplies need for LTTH service
• Compatible with multiple providers such as DirecTV & Dish
• Eliminate all satellite antennas in developments or communities
• Bundle Gigabit speed internet service with voice for tripple play
Advanced LTTH Rack with GPON passives and Auto Redundancy
The following eample illustrates a modern LTTH headend system for satellite TV RF delivery. This diagram shows all of the components necessary for a 4 polarity system with dual optical transmitters and automatic fall over for transmitter failure. The signals from the antenna are first split into two paths via an active RF splitter. The two RF paths are then modulated to DWDM channels via two seperate forward transmitters. The output from the transmitters is fed into a 1x2 fiber optic smart switch. The switch receives a second input from the second transmittters preamp output. When the switch detects a losss of signal on the primary input, it automaticall switches the path the secondary transmitter source. This prevents loss of service and ensures 99%+ system up time. Further redundancy can be added with additional forward transmitters and redundant EDFA. Thor always recommends stocking at least one standby unit for every major compoent. This allows local technitions to replace a failed unit imediatly to regain redundancy while the faulty unit is repaired at Thor.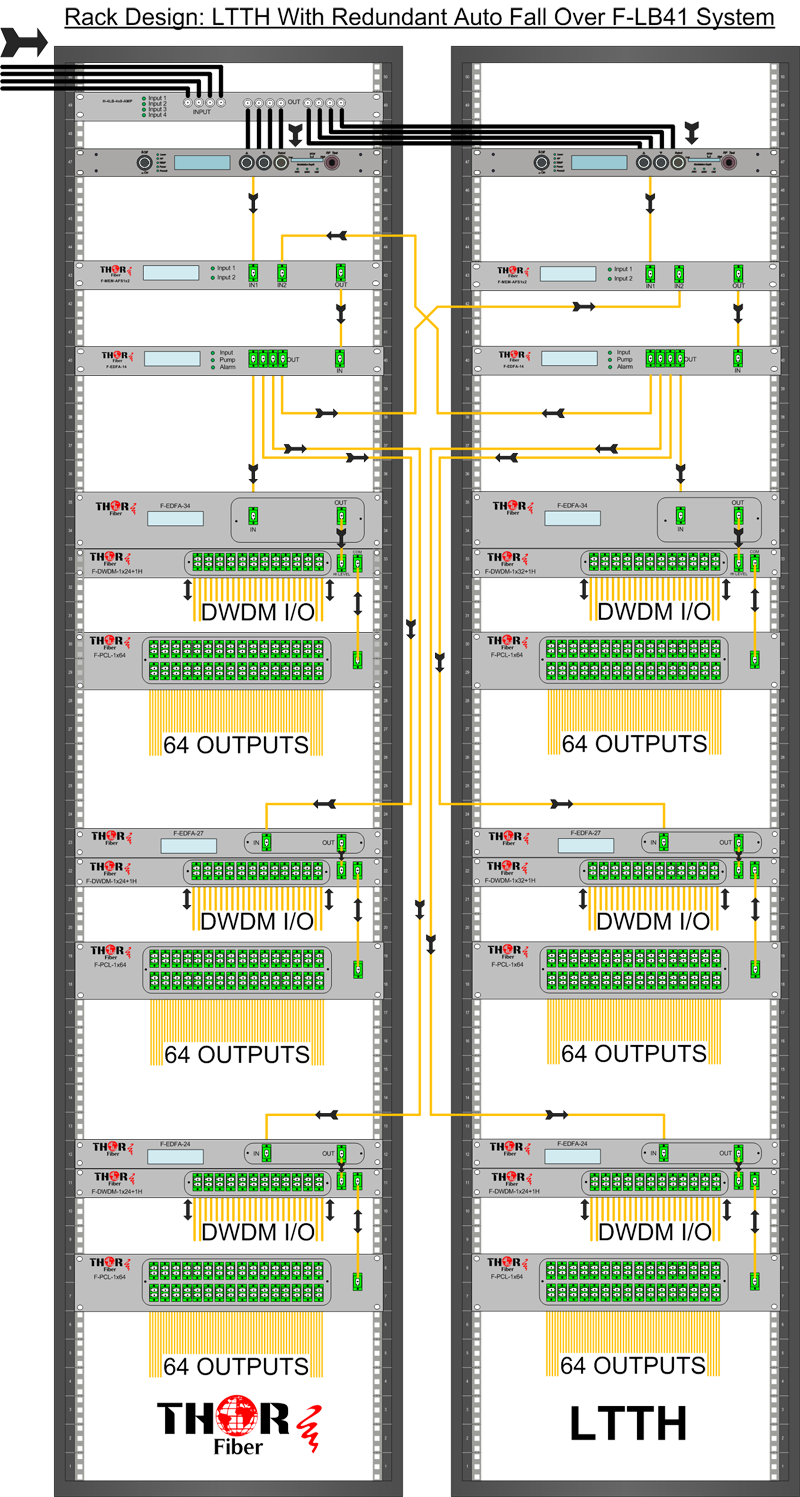 Guarantee ROI and uptime with Thor
For large scale LTTH installations, Thor offers on site installation service from qualified optical engineers. When you pay for Thor on site service, you get an actual engineer with at least 10+ years of experience in the industry; not an installation technician. Purchase of a Thor system automatically includes free live 24/7/365 tech support from the engineering team that designed the equipment, not a help desk employee. This level of individual service ensures that your system will become operational as quickly as possible. To ensure your ROI, Thor guarantees all of its systems with a full 5 year warranty.
Product Specifications
LTTH System Design Service
L-Band RF Polarities Supported

4x Type-F 75 Ω: F-LB41
6x Type-F 75 Ω: F-LB61
**Up to 16 By Request

Frequency Range

45-3000 MHz *Model Specific

RF Output Power Level
(-25) - (+14) dBmV
Optical Wavelength
CWDM 1310-1610nm
DWDM ITU-100GHz 1.6nm
User Counts Supported
Max 4096 Subscribers per Transmitter
Internet Service Types
CWDM: PON, GPON, AE
DWDM: PON, GPON, AE

Common ISP level Suppliers

Industry leading equipment manufactures

Calix
Adtran
Cisco

Redundancy Types

Levels range from backup equipment on
shelf to full auto healing 2x2 fall over

Primary OTx Standby
Primary OTx Auto
Complete 2x2 Standy
Complete 2x2 Auto

Subscriber Count System Levels

Maximum number of users
or subscriber end points

Level 1: 1-16
Level 2: 16-128
Level 3: 128-512
Level 4: 512-2048
Level 5: 2048+

System Level Lead Times

Lead time from Thor to deliver
a complete headend system

Level 1: 1-7 days
Level 2: 7-14 days
Level 3: 14-30 days
Level 4: 30-60 days
Level 5: 30-60 days
Support Agreement
Guarenteed Live 24 hour engineering support 365 days a year
Equipment Warranty

Full 5 year warranty parts and labor with onsite engineering support
Thor LTTH Documentation
Basic LTTH System Architecture PDF
Advanced LTTH Headend Design PDF