LTTH RF Signal Path: Coax -> Fiber -> Coax

EDFA optical amplifiers are the technology that has made fiber optic service possible. These devices amplify an incoming optical signal as the light passes through a special segment of fiber that is doped with the element Erbium and energized with a pump laser. In this way the signal does not have to be stopped or delayed, but rather continues through the fiber at the speed of light. The only catch is EDFAs will only amplify light at a very specific wavelength range of around 1550nm. The vast majority of fiber optic communications equipment do not have the proper optics or lasers that can be used with optical amplifiers or EDFAs.
Thor LTTH is based on optical channel spacing of 1.6nm from 1540-1560nm. This allows multiple RF carriers to be multiplexed onto the same fiber for amplification and distribution. Once amplified the to high power levels the optical signal can be split to hundreds of outputs. When one of these outputs is connected to a Thor receiver, the optical channels are separated internally via a passive optical channel demultiplexing filter. This filter has multiple outputs that each contain a different 1.6nm optical channel. Each channel gets connected to a separate optical RF receiver. The output is provided on the same 75 ohm Type-F connector any satellite TV installer will be familiar with. Each of the coax connectors on the optical receivers output the different LNB polarities. Typically the optical receiver is then connected to a polarity locker or single wire multiswitch.
LTTH Complete System Architecture Overview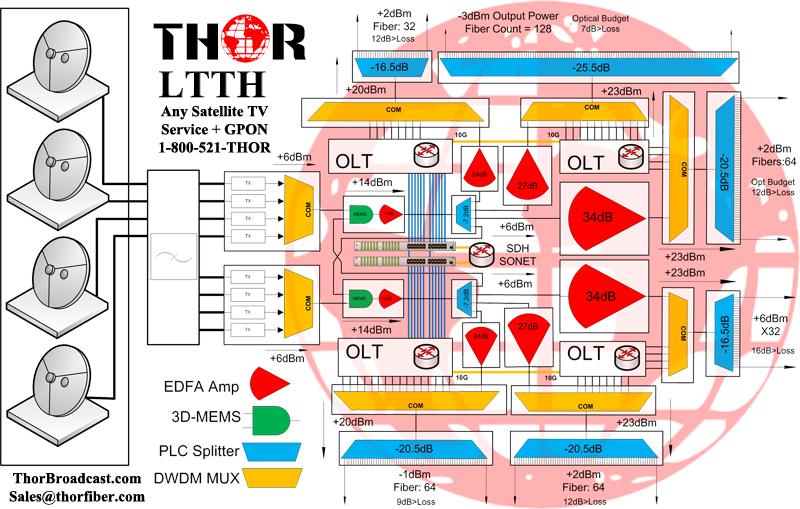 Thor LTTH Advantages

• Complete Turn-key service for satellite TV delivery over fiber
• Equipment designed and built specifically for each installation
• Thor provides all equipment and supplies need for LTTH service
• Compatible with multiple providers such as DirecTV & Dish
• Eliminate all satellite antennas in developments or communities
• Bundle Gigabit speed internet service with voice for tripple play
Advanced LTTH Rack with GPON passives and Auto Redundancy
The following eample illustrates a modern LTTH headend system for satellite TV RF delivery. This diagram shows all of the components necessary for a 4 polarity system with dual optical transmitters and automatic fall over for transmitter failure. The signals from the antenna are first split into two paths via an active RF splitter. The two RF paths are then modulated to DWDM channels via two seperate forward transmitters. The output from the transmitters is fed into a 1x2 fiber optic smart switch. The switch receives a second input from the second transmittters preamp output. When the switch detects a losss of signal on the primary input, it automaticall switches the path the secondary transmitter source. This prevents loss of service and ensures 99%+ system up time. Further redundancy can be added with additional forward transmitters and redundant EDFA. Thor always recommends stocking at least one standby unit for every major compoent. This allows local technitions to replace a failed unit imediatly to regain redundancy while the faulty unit is repaired at Thor.