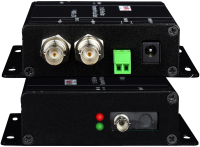 1 SDI Tx with loop and Rx with 2 ouput over Fiber
The F-1MSDI-L-2TX is a mini Fiber Optic Transport unit that is utilized and extra loop out SDI connector on the transmitter for monitoring and for additional screening. The matching receiver F-1MSDI-L-2RX uses the same technology as the transmitter so you can actually have 2 SDI outputs on the receiving end of the Fiber. This allows for easy access to redistribute a primary Fiber Cable that needs to be split to two SDI outputs.

2 SDI or HDSDI Fiber Optic MINI Extender
F-M2SDI transmitter and receiver set transports two full channels of HD-SDI, SD-SDI or DVB-ASI over fiber cable. Provides return path RS-485 as well as a auxiliary port that can support audio, RS-232/422, or contact closure.