4 Channels of L-Band over Fiber Optic Transmitter / Receiver for Satellite TV Up to 32 End points
4 LNB/Satellite TV Polarities over 1 strand single mode fiber up to 40Km for Remote Dish locations
The most convenient way to transport any modern Satellite signal over single mode fiber using an internal multiplexer to carry up to 4 signals of RF Satellite feeds
Particularly applicable to satellite TV distribution systems in a MDU (multi-dwelling unit) up to 32 endpoints (Apartments/Rooms)
Compatible with any multiswitch to serve hundreds of customers.

It works like individual coax extender from the LNB over the fiber
Product Features
 

  • Up to 4 RF feeds from satellite 4 LNB's over 1 strand Single mode fiber
  • Wide frequency response 850-2400 MHz or 54-2400Mhz (optional)
  • Compatible with multiple providers such as DirecTV, Dish Network, Free-to-air
  • Designed for use with Single Wire Multiswitch Systems (SWiM)
  • Up to 32 end points from one single transmitter
  • Plug and Play
  • Does not saturate
  • RF Signal Input to the Transmitter = RF Signal Output from the receiver (100% Transparent)
  • Transmitter RF Input can power LNB- 13V or 18V
  • Easily add ATSC RF from local antenna through our wide frequency band that supports 54-2700Mhz
  • Sends 22Khz control tone
  • LCD display and Front panel interface for easy device management
  • Transmitter displays RF Input Power for individual RF feeds and  Optical Output power for each individual CWDM laser (4 lasers total)
    Receiver displays Optical input power from each of the 4 lasers, and RF output Power as well
  • Internal Power Source: AC power supply 110V-220V
  • Redundant power supply
    Direct TV / Dish Network Compliant



Application Drawing: Point to Point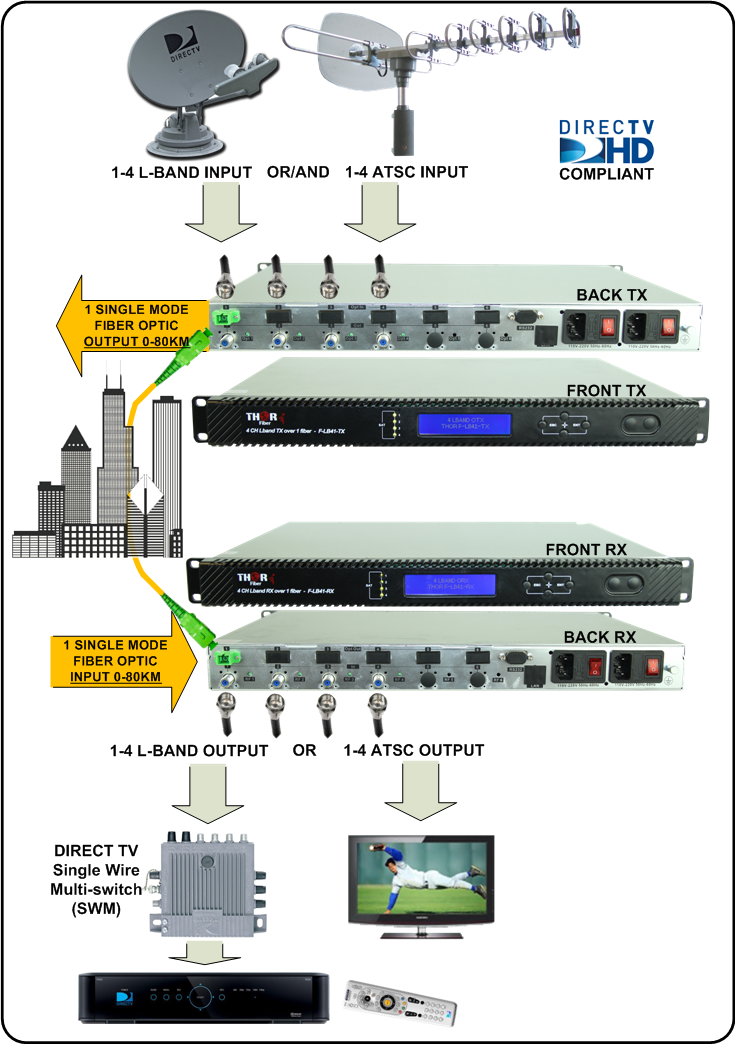 The most common application for the LB41 system is extending the maximum distance between a television system and its satellite dish antenna. Without the use of a Thor system, the satellite antenna must be installed within 100 meters of a multiswitch or receiver equipment. This is not a problem for most residential or household type consumer applications; but presents a significant obstacle in larger high rise buildings or corporate installations. The LB41 system increases the flexibility of satellite TV systems by overcoming the distance limitation between the antenna and the rest of the TV system.
Application Drawing: Point to Multi-Point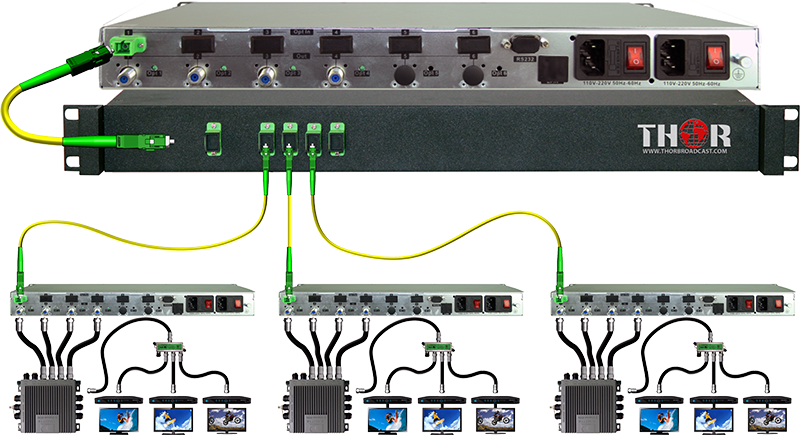 Another popular use of the LB41 system is for distributing the output from a common satellite antenna to multiple receiver locations. For the standard LB41 system (using CWDM optics) it is possible to use a single transmitter and high efficiency coupler to deliver the satellite content to up to 32 optical receivers. The standard CWDM systems typically do not have enough power to deliver Internet or network connectivity due to loss. For customers requiring a system that can scale, Thor also offers these systems in DWDM optics. The DWDM versions of these transmitters are compatible with EDFA optical amplifiers. This allows expansion to up to 5000+ optical receivers and the incorporation of internet or IP networking services. Thor refers to the DWDM type systems as LTTH (L-Band to the Home).

Thor Fiber's 4 Channel L-Band over single mode fiber systems were designed to be the most reliable source for transporting Satellite Television over Modern Satellite TV systems such as DirecTV, Dish Network, and Free Off Air. The LB-41 unit will take all 4 coax feeds from the 4 LNB's found on many satellite dish arrays and transport them discretely over a single fiber so you don't have to worry about the distance to your head end. The strength of these units comes from powerful lasers that will transport each LNB signal over a different color of light that is combined in an internal multiplexer. This reliability creates a completely transparent feed from your Dish to your receivers without sacrificing picture quality. Easily distribute this optical signal to many endpoints using a splitter or coupler, the LB41 can feed up to 32 end points with a single Transmitter. Also ask one of Thor's representatives about a DWDM system that can be used with EDFA amplifiers and lots of splitters to send a Single Dish feed to 5000 homes (endpoints).
These units, both Tx & Rx, come in a standard 19" rack mount chassis that will help keep your area or head end free of clutter and excess wiring. What makes these units so dynamic is their simplicity in use, plug & play, and their very advanced chip sets with automatic features that will help minimize any troubleshooting. This multichannel L-Band set is the easiest way to setup a point to point connection for a Satellite Dish over any distance up to 40km over one strand of single mode fiber using SC/APC connectors. If you're looking for a way to hide that satellite dish in a discrete location on your property but are worried about signal loss to the STB from your dish provider, Thor has the simplest and most frustration free design that our integrators and installation experts have ever used. The standard CWDM implementation features automatic internal tuners that will adjust to your Dish and transport the cleanest HD quality picture
Part numbers :
PN: F-LB41-TX-CWDM-XX 4 LNB fiber optic transmitter
F-LB41-RX-CWDM-XX 4 LNB fiber optic receiver
xx distance in Km
Thor L-Band to the Home Documentation
Basic LTTH System Architecture PDF
Advanced LTTH Headend Design PDF
Redundant Tx LTTH Rack Design PDF
Product Specifications

RF Inputs

4x Type-F 75 Ohm

Frequency Range

850-2400 MHz or (54-2400 MHz - Optional)


RF Input Power Level

(-25) - (-14) dBmV

Optical Wavelength

4x Independent Optics CWDM 1510nm 1530nm 1550nm 1570nm


Optical Output Power

3.0 dBm (2mW) - Standard


6.0 dBm (4mW) Optional

8.0 dBm (6mW) Optional

10. dBm (10mW) Optional

Optical Output Ports

1 x SC/APC

Laser Type

4x Feedback Controlled DFB type 1550 CWDM


RF Return Loss

12 dB

RF Link Gain

25 dB

Control Interface

RS-232 Serial

SNMP Network

Front Panel

Power Supply

110 / 220 VAC Auto Switching

Power Consumption

>50 W

Dimensions

482 x 268 x 44 mm

Weight

3.5 kg

Operating Temperature

0 - 65 C