Best satellite optical distribution system for large MDU applications
L-Band signal to almost an unlimited number of end points. In correlation with using triple play CWDM passives, it is possible to transport 4 L-bands and bidirectional gigabit ethernet over one single mode fiber.
Satellite distribution systems specifically designed for MDU / MTU and Fiber to the home applications. System can supply Satelitte TV up to 5000 houses from one dish
Product Features
• Up to 4 L-Band RF feeds from satellite antenna over single fiber
• Wide frequency response 45-3000 MHz: model specific
• Compatible with multiple providers such as DirecTV & Dish
• Designed for use with Single Wire Multiswitch & Polarity Lockers
• High optical power output > 6 dBm signal strength output
• DWDM internally multiplexed signal for use with EDFA amplifiers
• It could be used together with EPON or GPON for TV and Ethernet distribution
- Fiber to the home application FTTH, FTTP,
- STTH (Sattelite to the home) - (SATV + Etherent over singlefiber)
- LTTH ( L-Band the the Home)

Application Drawing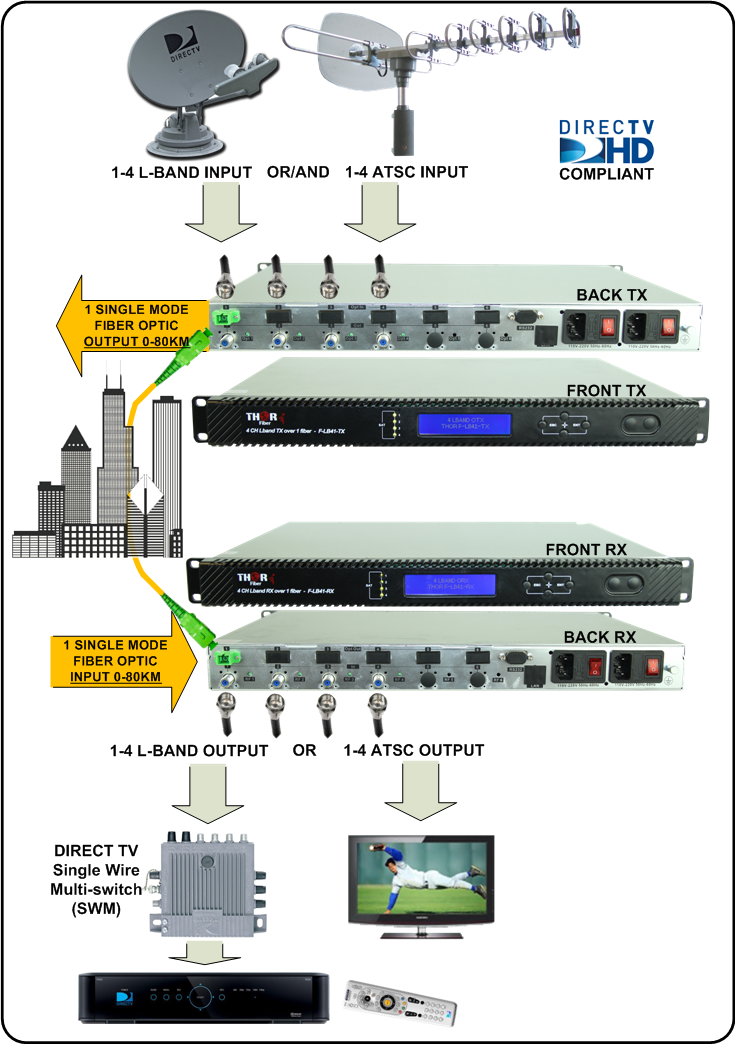 Thor LTTH (L-Band to the Home) systems allow community developers and MDU operators to offer residents satellite TV and high speed internet services without the need to install satellite antennas at each location. LTTH uses a single master satellite Antenna as the signal source and distributes the complete antenna signal including multiple polarities over a single strand of singlemode fiber optic cable (SM-FOC). LTTH is similar to Thor FTTH and other fiber to the home systems, but is designed specifically for satellite TV distribution requiring multiple coax runs to the antenna. Traditional FTTH systems do not operate at L-Band frequencies, and are usually based on a single optical RF channel at 1550nm. LTTH is based on multiple RF laser transmitters with all optical multiplexers and passives built into the unit. All RF inputs are combined into a single fiber optic output that can be amplified and distributed through multiple levels of EDFAs and PLCs. LTTH allows delivery of higher bandwidth satellite TV services with the convenience of terrestrial cable FTTH type architectures.
Learn more about THOR-LTTH (L-Band to the Home)
Basic LTTH System Architecture PDF
Advanced LTTH Headend Design PDF
Redundant Tx LTTH Rack Design PDF
Product Specifications

Model# F-LB41-DWTX

RF Inputs

4x Type-F 75 Ohm

Frequency Range

950-2400 MHz




250-2800 MHz




45-3000 MHz

RF Input Power Level

(-25) - (+14) dBmV

Optical Wavelengths Available (nm) ITU-100GHz Channel Spacing

| | | | | | | |
| --- | --- | --- | --- | --- | --- | --- |
| 1577.03 | 1547.72 | 1562.23 | 1533.47 | 1569.59 | 1540.56 | 1554.94 |
| 1576.20 | 1546.92 | 1561.42 | 1532.68 | 1568.11 | 1539.77 | 1554.13 |
| 1575.37 | 1546.12 | 1560.61 | 1531.90 | 1567.95 | 1538.98 | 1553.33 |
| 1574.54 | 1545.32 | 1559.79 | 1531.12 | 1567.13 | 1538.19 | 1552.52 |
| 1573.71 | 1544.53 | 1558.98 | 1530.33 | 1566.31 | 1537.40 | 1551.72 |
| 1572.89 | 1543.73 | 1558.17 | 1529.55 | 1565.50 | 1536.61 | 1550.92 |
| 1572.06 | 1542.94 | 1557.36 | 1528.77 | 1564.68 | 1535.82 | 1550.12 |
| 1571.24 | 1542.14 | 1556.56 | 1527.99 | 1563.86 | 1535.04 | 1549.32 |
| 1570.42 | 1541.35 | 1555.75 | 1527.22 | 1563.05 | 1534.25 | 1548.52 |
| 1526.44 | 1525.66 | 1524.89 | 1524.11 | 1523.34 | 1522.56 | 1521.79 |

Optical Output Port Options

1x SC/APC
1x ST/APC
1x FC/APC
*Multiple Outputs by Request

Optical Output Power Level

+6.0 dBm

±1.0 dB

Optional Features

Secondary Power Supply




Internal EDFA Preamplifier




Internal Amp & Coupler

Power Supply

110 / 220 VAC External 12VDC

Power Consumption

>25W

Dimensions

263 x 198 x 35 mm

Weight

1.75 kg

Operating Temperature

0 - 65 C