1 SDI & HDSDI Over Fiber Micro Extender
(SD/HD-SDI coax-to-fiber) throw-down converter. Transmit multi-rate SD/HD-SDI video, up to 1.485Gb/s, at extended distances up to 80Km over one strand of single mode optical fiber, better than a rattler. F-Micro-SDI transmitter and receiver kit for transporting HD-SDI, SD-SDI digital broadcast video signals over fiber cable. Provides 1 channel of RS-485 control data over a return path from the Rx back to the Tx.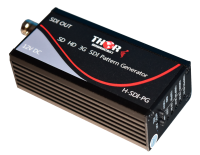 Mini SD/HD/3G-SDI Pattern Generator
The H-SDI-PG is a SD/HD/3G-SDI pattern generator, which supports 2970Mb/s, 1485Mb/s and 270Mb/s color bar pattern with moving circle and embedded 1 KHz audio.