1 Ch Mini HD/SD -SDI Fiber Optic Extender with return RS485 Data
Extend HD-SDI or SD-SDI digital video signals over single-mode or multimode fiber optic cable
Thor compact SDI fiber extender kits are designed to increase the range of digital SD-SDI or HD-SDI video signals over single mode or multimode fiber optic cable. SDI is normally carried over coax cable on BNC connectors, however, the maximum cable distance is limited to around 100 meters. Thor SDI extenders increase this distance to more than 80 miles by using lasers to send the data over fiber cable.



TX/RX kit

F-M1SDI-TX/RX with ST/PC connector, supports single mode fiber up to 20Km or 2000 feet over multimode fiber

| | |
| --- | --- |
| | $349 tor TX/RX kit |
Cabled (coax-to-fiber) throw-down converter compact, rugged, and portable converter boxes. Super-easy to use, supports SMPTE 424M, 292M, and 259M as well as ASI and MADI audio. Its wide operating range from 5Mbps to 1.5Gbps, (3G-SDI 3Gbps model available*) supports most professional digital serial communications. Full error-free pathological pattern operation is fully compatible with professional fiber video interfaces.
Application drawing: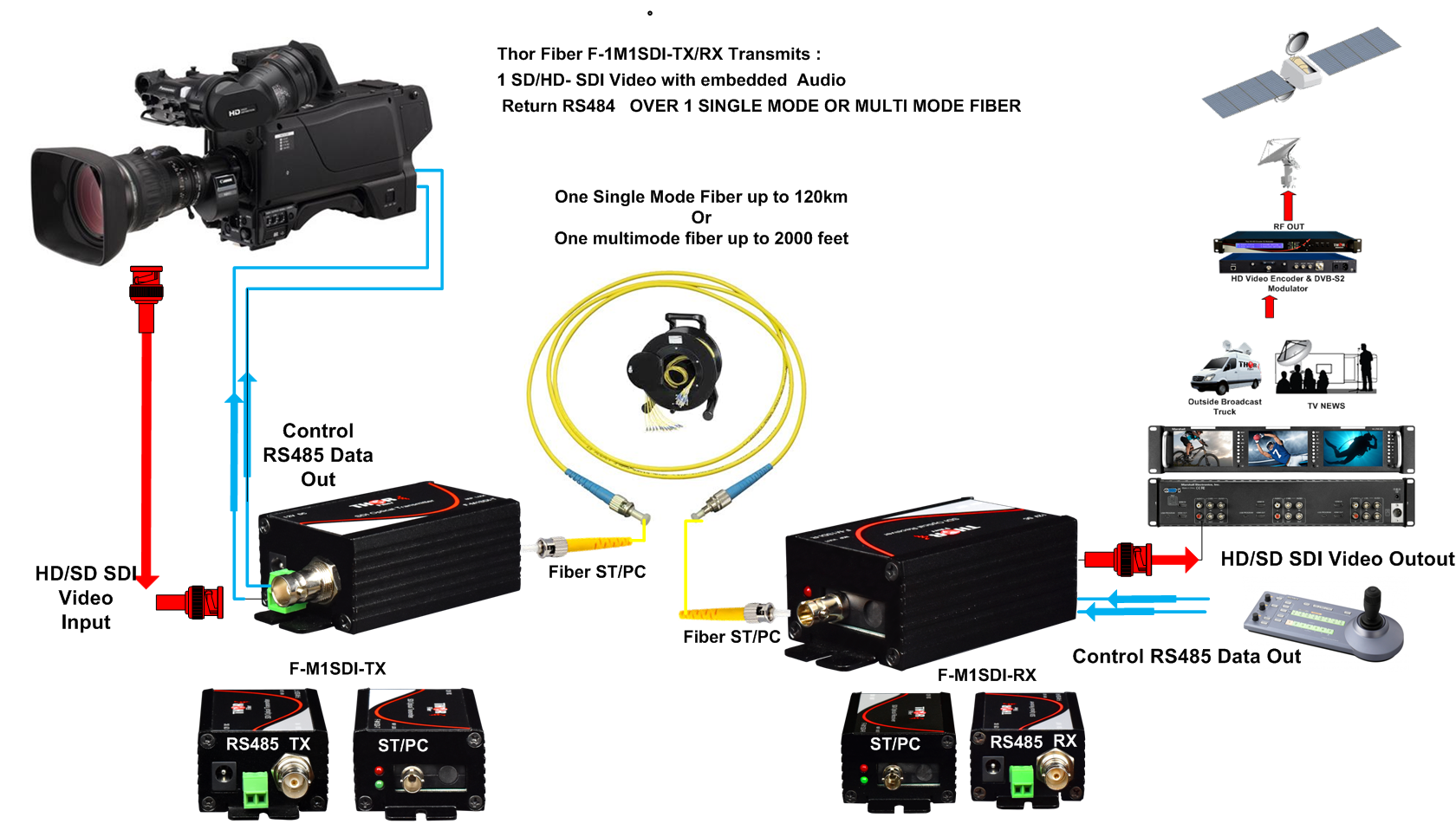 Single channel SDI fiber links are highly compact units that are suitable for a wide range of applications identical to where rattlers are used. Common uses include mounting on broadcasting cameras to simplify cable distribution. Another common application is for high end security systems. The F-M1SDI platform is ideal for security applications where the RS-485 serial data channel can be used to control pan, tilt, and zoom controllers at the camera mount. This also simplifies cabling.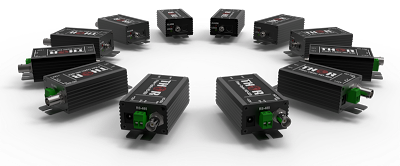 Thor F-M1SDI fiber optic SDI transmitters and receivers use locking type ST fiber connectors and BNC video cables to ensure that any cable is not accidentally pulled out of the device once the equipment is installed. Adapter jumpers are available by request for most types of fiber cables if a different fiber connector type is required. Options are available for both singlemode or multimode fiber, and a range of transmitter power options can be selected.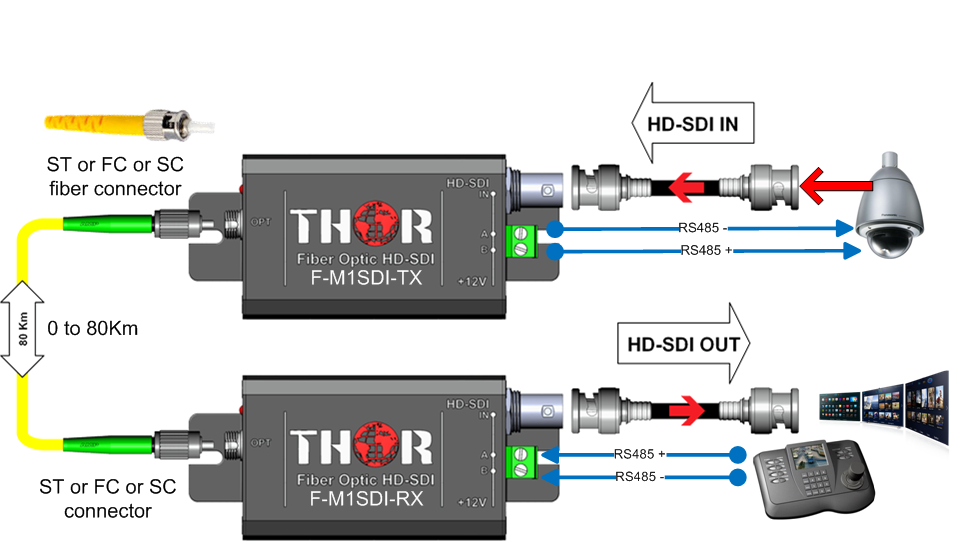 We can implement any Fiber Connector like ST, SC, FC or LC, although our standard unit has ST/PC (UPC) fiber connector

Product Features
Supports full rate HD-SDI @ 1.5Gbps or lower SDI or ASI digital video
3G SDI model available** this a link : F-M1SDI-3G-TX / RX
Transports embedded audio channels as well as SDI ancillary data
Return path serial RS-485 channel for controlling equipment on Tx end
Link alarm indicators on both Tx & Rx indicate a problem with the fiber
Status indicators for data rate and lock
Small rugged portable standalone package ideal for portable installations
Pathological test patterns are only supported on 3G SDI model
Data Sheet: F-M1SDI User's Manual: F-M1SDI 1-8 HD-SDI over fiber products
Base Model F-M1SDI-TX/RX Has ST/PC connector, support single mode fiber up to 20Km or multimode fiber up to 2000 feet
|
Product Specifications

*All Specifiactions Subject to Change Without Notice

HD-SDI Input

HD-SDI, SD-SDI, or DVB-ASI

0 - 1.5 Gbps Serial Digital Signal (3Gbps SDI model avialable)

Input Signal Standard : SMPTE292M,SMPTE259M,SMPTE297M,SMPTE310, SMPTE305(SDTI), DVB-ASI(EN50083-9) , Medi Audio

Number of Input

1 SDI -(BNC)
1 RS-485 (Terminal block)

Signal Level

> 380mVp-p

Impedance

75Ω

Connector

BNC

Distance

20/20/60/80/100Km - model selection

Mini box

25×116×110

Power Supply

130 - 260 VAC @ 50-60 Hz

Power Consumption

<10W

Temperature

0 to +70 Degree

Humidity

0 to 95%

Connector

ST/PC or SC/PC or FC/PC per request

Optical Channels

CWDM type 1310nm/1550nm

LED Status Indicator Power

RH

Power, Link

Non-condensing